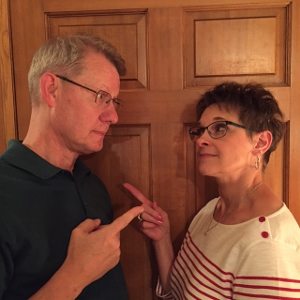 I'm not a fun person to argue with. When my pride kicks in, I find it all too easy to use my legal training to cross examine others and back them into a corner with leading questions.
As you can imagine, Corlette hates it when I go into attorney mode.
But God gave her a weapon as powerful as my adversarial skills. She was a second grade teacher, so she could control twenty-five students with the tone of her voice.
We never yell, but when it's lawyer vs teacher, our conversations can get quite intense.
One morning we had a disagreement over some trivial matter. After we each made our opening arguments, she retreated to the bathroom to stoke up "the voice" while I stood in the bedroom planning further prosecution.
I was just about to walk into the bathroom to lay out my case against her when a penetrating question came to my mind (one that I've asked hundreds of clients who were locked in conflict): "What would please and honor the Lord in this situation?"
I wasn't thinking at all about God at that moment so I immediately pushed the thought aside. My only concern was to vindicate myself.
But the question repeated itself (perhaps courtesy of the Holy Spirit): "Ken, how could you serve God right now?"
When I finally paused to consider the question for a moment, all of the wind went out of my sails. My consuming desire to prosecute my wife and vindicate myself evaporated.
"Lord," I whispered, "please forgive my pride and self-righteousness. I know you won't be pleased to see me use my verbal skills to force Corlette to say I'm right. Please help me to admit where I've been wrong."
I could feel my muscles relax and my pulse slow down as the adrenaline stopped flowing.
A few seconds later I walked into the bathroom and discovered that the Lord had not yet met with my wife. She was tensed up like a linebacker before the snap. So when I said, "Corlette, I'm sorry, I was wrong," she almost fell forward.
She had been expecting a cross-examination, so my words caught her completely off guard.
But her face softened instantly and she said, "No, it was really my fault. I shouldn't have approached you like that."
Needless to say, the conversation only got better from there, as each of us got our focus back on God and made pleasing and serving him our top priority.
This incident (which has been repeated in a variety of forms over the years) provides a vivid illustration of the third element of our RW guidance principle:
To become more God-aware and God-engaging follow a trustworthy GPS (God Positioning System):
Glorify God: trust, obey and worship him
Pursue God: Seek him earnestly
Serve God: Do what pleases him
Jesus' earthly ministry was constantly guided by his desire to please and serve his Father.
"He who sent me is with me. He has not left me alone, for I always do the things that are pleasing to him" (John 8:29)

"I seek not my own will but the will of him who sent me" (John 5:30).
The righteous periods of King David's life were guided by the same principle.
"Let the words of my mouth and the meditation of my heart be acceptable in your sight, O Lord, my rock and my redeemer" (Psalm 19:14).
The apostle Paul used the same compass to guide his ministry.
"So whether we are at home or away, we make it our aim to please him" (2 Cor. 5:9).
The next time you're faced with an emotional encounter or a difficult relational decision, follow their example. Ask yourself this simple question: "How can I please, serve and honor the Lord in this situation?"
If you pause and let the Holy Spirit guide you to the right answer, you'll be pleasantly surprised at how many wrong turns (and regrettable words) you can avoid and how quickly you will find your feet back on the path of peace.
– Ken Sande
PS: the first two elements of the GPS acrostic are explained in The World's Best GPS and Four Ways to Pursue God.
Reflection Questions
What is your reflex reaction when someone challenges, criticizes or blames you? Is it to please, serve, and honor the Lord? If not, what is your instinctive goal?
How do these types of conversations go when you give into your reflex reactions?
Can you think of a time when you (or someone you know) changed the course of a difficult conversation by consciously seeking to please and serve God?
Is there a situation in your life right now where you could apply this concept? How do you think it might change the course of that situation?
Permission to distribute: Please feel free to download, print, or electronically share this message in its entirety for non-commercial purposes with as many people as you like.
Would you like to receive future posts like this? Subscribe now!