Common Grace for Secular Venues
Through general revelation and common grace, all people, regardless of their religious beliefs, are able to learn, value and follow many of the relational principles that God has written onto the hearts of all people and woven into cultures around the world to enable civil societies.
Therefore, just as it is beneficial to teach and encourage all people, Christian and non-Christian alike, to obey civil laws, respect traffic signals, conduct business ethically, and treat employees fairly, it is equally beneficial to teach the basic principles of relational wisdom to all people who are willing to learn them.
With this in mind, RW360 has developed a "values-based" version of relational wisdom that we are using in a wide variety of secular venues, including: businesses, schools, hospitals, nursing homes, police and fire departments, military bases, state legislatures and even on Capitol Hill in Washington, D.C.
Our values-based paradigm contains no religious language and introduces the relational skills of "values-awareness" and "values-engagement" in place of "God-awareness" and "God-engagement." The six skills of relational wisdom are described in the following terms.
Values-awareness (remember) is your ability to honestly identify your true personal values.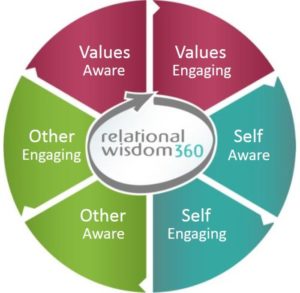 Values-engagement (faithfulness) is your ability to consistently apply your values in real life.
Self-awareness (humility) is the ability to accurately discern your own emotions, thoughts, values, interests and abilities.
Self-engagement (discipline) is the ability to manage your thoughts, emotions, words and actions constructively.
Other-awareness (compassion) is the ability to understand and empathize with the experiences, emotions, values and interests of others.
Other-engagement (service) is the ability to love, encourage, serve and resolve differences with others in a mutually beneficial way.
Worldviews Shape Our Values and Relationships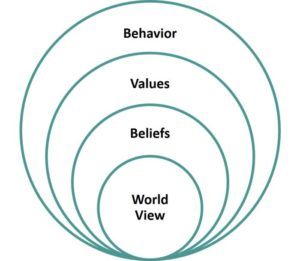 Our values-based training helps people to understand how their worldviews impact their relationships. Drawing on concepts like the Kwast Model of Culture and the Schwartz Theory of Basic Values, we set forth Six Primary Worldviews and then unpack principles like these:
Values arise from our worldview and play a pivotal role in our relationships.
Worldviews and values are usually adopted randomly and frequently fluctuate depending on our situations, which causes confusion and instability in our relationships.
Conflict also arises when our values clash with the values of our family, employer or community.
Relationships also suffer when we behave in ways that are inconsistent with our stated values.
After laying this groundwork and introducing concepts of emotional intelligence, we take students through a process of evaluating their worldviews and related value systems in comparison to others and considering how their values and emotions are guiding their relationships.
At the very least, this thoughtful evaluation can help people identify aspects of their worldviews and values that are undermining their relationships. In some cases, it may also move people to improve their values and even consider embracing an entirely new worldview.
Chutes and Ladders
We believe that every person, regardless of their current worldview, can benefit from the evaluation process described above. We also believe that every person can benefit by learning more about other worldviews, especially the one that is grounded in the Bible.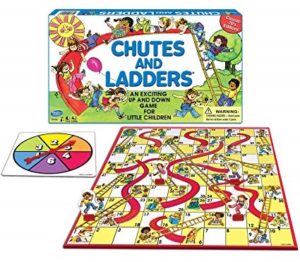 Therefore, we have created over forty "chutes and ladders" links between our two online courses, which allow students in the faith-based course to go through the worldview/values evaluation described above, and students in the values-based course to learn more about a Christian worldview and how the gospel inspires and empowers relational wisdom.
All of these cross-over links are clearly labeled and entirely voluntary, so students are free to choose whether to take advantage of the additional information available in either of the alternative courses.
For several examples of how some churches are using this material for community engagement and evangelism, see Using RW for Witnessing and Evangelism.
Our values-based material is explained in more detail at www.rw360values.org. Our online course in values-based RW, which is called Exploring Relational Wisdom 3.0, is available at the RW Academy.
To see over a dozen ways that you can apply and share the principles of relational wisdom in your sphere of influence, see RW Training Options and Opportunities.