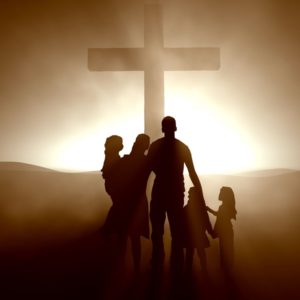 A young couple came to my office just before Easter one year and asked me to mediate the legal issues of their divorce. The wife had been unfaithful, and their relationship had been shattered. They had argued, excused and blamed for a couple of weeks and finally given up hope that they could ever restore their marriage.
They had two small children, so they asked me to help them agree on a child custody and visitation arrangement and to divide up their property without a big fight. As they put it, "We just want to get this over with as quickly and painlessly as possible.
After hearing their story, I said, "I would be honored to serve you. But before we discuss the legal issues, there is one thing I'd like to do. I want to read you a passage of Scripture and then ask you one question."
I could tell from their faces that they did not welcome this idea, but since I insisted, they really had no choice. So I opened my Bible to the Apostle Paul's marvelous prayer in Ephesians 1:16-20:
I keep asking that the God of our Lord Jesus Christ, the glorious Father, may give you the Spirit of wisdom and revelation, so that you may know him better. I pray that the eyes of your heart may be enlightened in order that you may know the hope to which he has called you, the riches of his glorious inheritance in his holy people, and his incomparably great power for us who believe. That power is the same as the mighty strength he exerted when he raised Christ from the dead and seated him at his right hand in the heavenly realms" (Eph. 1:16-20, NIV).
After I finished reading, I paused for a moment to let the passage sink in a bit. Then I asked my question: "Do you believe what this passage says?"
When they nodded their heads "yes," I asked them to tell me in their own words what this passage teaches. The husband responded by saying, "Jesus was resurrected from the dead. That's what we're celebrating this coming Sunday."
I paused again and then asked, "Do you really believe that God had the power to resurrect a dead man back to life?"
Again, they both nodded "yes."
Then I reread the last part of the passage a second time, emphasizing the words, "His incomparably great power for us who believe. That power is the same as the mighty strength he exerted when he raised Christ from the dead."
Then I said, "Do you realize that this passage promises that through the gospel and the work of the Holy Spirit, God is making available to you the same resurrection power that he exerted when he raised Jesus from the dead? Right now, this minute, he is holding out to you the power to resurrect your dead marriage."
They both looked stunned. After giving their marriage up for dead, it was almost too much for them to believe that it could actually come back to life again.
I just sat there silently for a while, praying for the Holy Spirit to soften their hearts and give them a burst of faith and hope.
Finally, the wife asked, "Is that really true? Can we really restore our marriage?"
I handed her my Bible and asked her to read the passage again out loud. When she looked up after reading it, I could see a glimmer of hope building in her eyes. So, I handed the Bible to her husband and asked him to read it as well.
The fourth time they heard it, the promise was finally breaking through their walls of fear and unbelief.
They were still unsure and scared, but the door was finally opened for me to encourage them with the promise that through the gospel, God had already paid for and forgiven all their sins, and that through the Holy Spirit, they could receive power to forgive all of their sins against one another and make a new start in their marriage.
We talked and prayed and read other Scriptures, which increased their hope for true reconciliation. We eventually called their pastor to tell him what was going on. He had not known about the adultery or the planned divorce, but once he understood their situation, he moved quickly into shepherd mode, agreeing to come to their home that evening to support their plans to reconcile.
I lost track of the couple and didn't see them again for about four years. After preaching in another church in our community one day, I saw them walking up the aisle with four small children, one of whom was an infant.
They shared with me how their pastor had counseled with them for several months as they faced up to the ways that each of them had contributed to the breakdown of their marriage. God had given them grace to sincerely repent of their sins and to truly forgive each other.
At the end of the story, they pointed to their two youngest children and said, "They wouldn't be here today if God had not restored our marriage." Two human beings came into this world because God resurrected a supposedly dead marriage. Praise be to his name!
What About You?
Is there a broken relationship in your life that you think is dead and beyond repair?
Maybe it's your marriage. Or a parent or a child you haven't talked with in years. Perhaps it's a friend or coworker whom you've given up on … or who seems to have given up on you.
Whatever the case may be, remember the gospel promise of Ephesians 1:16-20. If you believe in Jesus Christ, the same power that resurrected him from the grave on Easter morning is available to you as you seek to resurrect the seemingly dead relationships in your life.
That power can transform you from the inside out, freeing you from the sinful desires, habits and behaviors that damaged your relationships in the past (Eph. 4:20-24). That power can also give you the ability to humbly confess your sins to others and to sincerely forgive their sins against you (Eph. 4:31-32).
There is no guarantee that others will open themselves to this same power and respond to you with humility and forgiveness. Regardless of what they do, however, you can know that you have opened yourself to the resurrection power of Jesus Christ and done all you can to live at peace with others (Rom. 12:18).
God's power to tear down walls and reconcile people is truly incredible (Eph. 2:13-16). I hope that one of the ways you celebrate Easter this year is to ask God to point you toward a relationship in your life where he wants to demonstrate his resurrection power.
~ Ken Sande
PS: If you would like some immediate guidance on how to apply the reconciliation principles in God's Word, I encourage you review the principles on this page: Biblical Peacemaking—Breathing Grace in the Midst of Conflict. To dig in even deeper and develop skills that will help you get upstream of conflict and build stronger relationships, I encourage you to take advantage of RW360's wide array of training resources.
Reflection Questions
Is there a relationship in your life that seems broken beyond repair? How does Ephesians 1:16-18 give you hope that God could work through you to bring it back to life?
What steps have you already taken to be reconciled with this person? Are there any peacemaking principles that you did not fully and humbly apply? If not, would now be a time to give it another try?
Who could you talk to for wise and biblically sound advice on whether it would be appropriate to pursue reconciliation with this person?
Do you know someone who seems to have given up on restoring a broken relationship? If so, please feel free to pass this post on to them, along with your prayers and personal encouragement.
Are you a church leader who is seeking to help others reconcile and need some advice on what to do next? If so, please use our Conciliation Hotline to connect with one of RW360's conflict coaches and conciliators.
Permission to distribute: Please feel free to download, print, or electronically share this message in its entirety for non-commercial purposes, whether with a few friends or as a staff, ministry or church devotional.
© 2022 Ken Sande
Would you like to receive future posts like this? Subscribe now