Years ago, one of my clients was in the hospital with only hours to live. He had no interest in seeing his stock portfolio one more time.
Although he had spent most of his life focused on work and wealth, with death hovering at the door, dollars meant nothing.
He had only one thing on his mind: would the son he had not spoken to in twenty years make it home before he died?
Would there be time to say, "I'm sorry," "I forgive you," "I love you"?
It's the same for all of us: there is only one thing that really matters at the end our lives: relationship … our relationship with God and with the people he placed in our lives.
Even when we think we have many years yet to live, most of us still wish we could press some kind of magical rewind button and start our lives over again, only with much different priorities.
Less time focused on accomplishing and accumulating and criticizing, and more time spent on listening, loving, encouraging and forgiving … in a word, on relationships.
Well, there no magic button. But there is today … and tomorrow … and the next day.
Each and every day we have yet to live is rich with opportunities to cherish, build, repair and enjoy our relationships with those we love.
If you want to do this in a more deliberate and fruitful manner—in a manner that leaves fewer regrets at the end of your life—I encourage you take advantage of a life-changing resource we've just upgraded and released.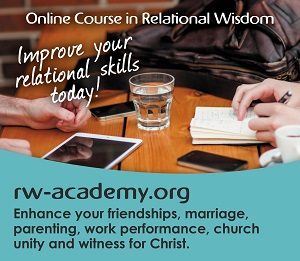 Discovering Relational Wisdom 3.0 has been streamlined into eight enhanced lessons so they can be completed more easily and quickly.
We expanded the teaching content and filmed it under the direction of a professional videographer who gave us a quantum upgrade in video quality, as you can see from the sample video at the bottom of this page.
Another upgrade was achieved by moving to a new web-learning platform that is more attractive, user-friendly and fun to navigate. Short interactive quizzes and application questions in each lesson will keep you alert and confirm that you are learning the key principles of relational wisdom.
Finally, we reduced the price of the course from $79 to $49 … and for the next five days of our launch, you can access this valuable training for even less:
For a 50% discount, register by midnight, April 18, using coupon drw50
For a 40% discount, register by midnight, April 19, using coupon drw40
For a 30% discount, register by midnight, April 20, using coupon drw30
For a 20% discount, register by midnight, April 21, using coupon drw20
For a 10% discount, register by midnight, April 22, using coupon drw10
Please feel free to share these discount coupons with your friends and coworkers, so they too can take advantage of this training, all of which is conveniently summarized on the RW360 Smartphone App. If you are not 100% satisfied with the course, we will provide a full refund.
I would also appreciate it if you would pray for us as we begin filming the values-based (secular) version of this course in May, which is designed to open the door for sharing the gospel in businesses, schools, hospitals, military bases and other places where people have yet to know Jesus.
Lord willing, that course will soon be followed by new online training in peacemaking, RW coaching, conciliation and a variety of specialty courses (marriage, parenting, church leadership, etc.).
You can learn more about Discovering RW 3.0 by visiting our new educational portal at www.rw-academy.org. If you have any questions, please email mail@rw360.org.
The more you develop your relational skills today, the richer and closer your relationships will be between now and time that God calls you home.
Warmly,
~ Ken
Reflection Questions
If there were two or three relationships you could "rewind" and do over, what would you do differently?
Why not start doing those things today?
Are there some people in your life who you think would also like to improve their relational skills? Why not ask them to join you in studying the life-changing principles taught in our new course?
Permission to distribute: Please feel free to download, print, or electronically share this message in its entirety for non-commercial purposes with as many people as you like.
© 2019 Ken Sande
Would you like to receive future posts like this? Subscribe now!