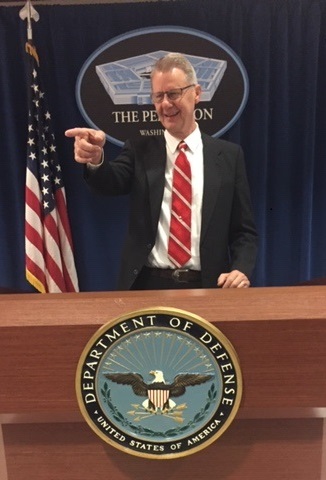 Washington DC is an interesting place, to say the least.
Politics, power, money … countless temptations, continual controversy … and thousands of people whom God has graciously called to serve as salt and light in our nation's capital.
I was privileged to meet fifty of those people the first morning of my recent visit to DC. These White House staffers gather every week in the Eisenhower Office Building to study the life of Jesus, discuss the wisdom principles from his Word and pray for our nation's leaders. One word kept coming to mind during our time together: hope.
If God is assigning people like these to the highest offices of our land, there is hope that he will channel his wisdom and grace through them, just as he did with Joseph, Daniel, Esther and Mordechai when they served in the palaces of old.
That evening I had the opportunity to teach relational wisdom to forty people who serve in the Dirksen Senate Office Building. Each person received a complete set of training materials and free access to our extended online training at the RW Academy. Several are already working through the course and are now inviting coworkers to join them. Please join me in praying that their example will inspire others and trigger many opportunities to share the gospel foundation for relational wisdom.
The next morning I had the privilege to meet with several military officers who wanted to explore the possibility of training chaplains to use our materials to strengthen relational skills among soldiers and reduce the incidence of divorce and suicide in military families. One of the men in that meeting invited me to his office for a further hour of conversation. Two hours after I left his office, I received an invitation to provide introductory training to 150 of his top officers and their spouses later this month. I pray God uses this event to open many new channels for us to serve the men and women of who sacrifice so much to keep our nation safe.
After that meeting, we headed back to Capitol Hill and spent two hours talking with several members of Congress about ways they could use RW resources to strengthen the cohesiveness, teamwork, productivity and witness of their staffs. Two days after our meetings, one Congresswoman sent me this message: "What a blessing to meet you this week!  You spoke to my heart and I am anxious to review the study guide. I also want to get my team started on it as well as my husband and kids." What a privilege it was to meet people like her!
Thank you for your prayers for these meetings, which allowed us to connect with many brothers and sisters who are deeply committed to serving Christ in our nation's capital. Please continue to pray that the seeds we've sown will multiply in the months ahead, creating many opportunities for people in government service to witness and experience the transforming power of Jesus and his gospel.
~ Ken Sande
Permission to distribute: Please feel free to download, print, or electronically share this message in its entirety for non-commercial purposes with as many people as you like.
© 2019 Ken Sande
Would you like to receive future posts like this? Subscribe now!