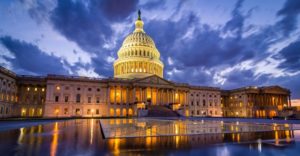 Thank you for your prayer support during my training in Washington, D.C. last week. What an exhilarating experience!
The training for congressional staff was rewarding for me as we engaged in discussions on how to apply the principles of relational wisdom not only in their work on Capitol Hill but also in their personal lives, which is where the stresses of the day are often unloaded, sometimes in relationally damaging ways. I pray that the seeds sown in our three hour session will produce a harvest of productive team work and stronger relationships in all parts of their lives.
The training for the Republican Women's Federal Forum was pure joy. As you can see if you look at the  PDF of my presentation, I began my talk by describing a situation in which Corlette once again served as the most influential advisor in my life. During a volatile time, she maintained control of her emotions so she could help me to avoid an emotional reaction to a challenging situation and behave in a way that preserved a valuable relationship. I pointed out that that is precisely the role that most of these women probably need to play on a regular basis as they face their own life challenges (some as U.S. Representatives themselves) and also support their husbands in their roles in our nation's Capital.
We went on to look at the concept of emotional intelligence and consider how the EI of Lincoln, Grant and Reagan guided our nation through some of its most perilous days. I then took the bold step of pointing out that not all politicians have manifested such wise behavior. In fact, a growing number of scientific studies show that as people grow in power, many of them lose the capacity for empathy and self-control (see, e.g., Power Causes Brain Damage). There were a lot of sober faces and nodding heads in the room as I described a dynamic that is plaguing our nation more intensely every day.
After describing some of the deficiencies of classic emotional intelligence, I then introduced them to the concept of "relational wisdom," which goes beyond EI by incorporating a deliberately developed value system, which for many people is their faith in God, their belief in the gospel of Christ, and their desire to live according to the timeless relational principles of Holy Scripture.
I then illustrated these concepts by showing them two short video clips from the Blue Bloods television show (which you can watch here) and closed by offering each of these eighty women free access to our online resources and training courses, which I encouraged them test drive themselves and then offer to any staff that they and their husbands have the privilege to lead.
Corlette and I had several delightful conversations after lunch, with many women saying that this was some of the most practical and relevant training they had received in years. Within 24-hours I received invitations for three new speaking opportunities in DC, so it looks like we'll be heading back east again in October, Lord willing.
Your prayers played a key role in making this trip such a success and for the opportunity to sow seeds that are already multiplying in our nation's Capital. Thank you so very much!
May all the praise go to God!!
Warmly in Christ,
~ Ken Sande
PS – To learn how you can acquire training to teach our resources or provide coaching or conciliation services in your community, please click here.