Qualification: ACSI has approved RW360 as an official Ministry Partner
Course Title: Discovering Relational Wisdom Seminar 3.0 
Activity ID: ACSI201652507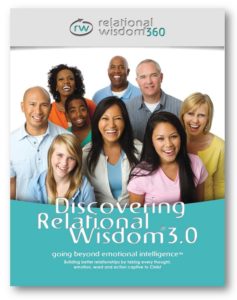 CEU Type: Professional and Bible
Credit: 6 hours (1 CEU) Live and Online
Course Description: Relational wisdom—a gospel-driven form of emotional intelligence—is your ability to discern emotions, interests and abilities in yourself and in others, to interpret them in the light of God's Word, and to use these insights to manage your responses and relationships successfully. In this five hour online seminar, Ken Sande describes the biblical and psychological basis for relational wisdom, and provides four simple acrostics that will enable you to weave these concepts into your professional and personal relationships.
Course Objective: Teachers and administrators who master these skills will experience closer and more productive relationships with students and their parents, as well as co-workers and supervisors, resulting in less conflict, improved team-building, better job performance, more effective conflict resolution, a more credible Christian witness, and an example that inspires students to pursue relational wisdom in their lives.
Course Designer: Ken Sande is the founder of Peacemaker Ministries and Relational Wisdom 360. Trained as an engineer, lawyer, and mediator, Ken has conciliated hundreds of family, business, church, and legal conflicts. As president of RW360, he now focuses on teaching people how to build strong relationships in the family, church, and workplace. He teaches internationally and is the author of numerous books, articles, and training resources, including The Peacemaker, which has been translated into fifteen languages. He is a Certified Christian Conciliator, an Editorial Advisor for Christianity Today, a Certified Relational Wisdom Instructor, and an Emotional Intelligence Certified Instructor.
Endorsements:
"Ken Sande's teaching on relational wisdom created the perfect presentation for our regional school leader's conference. Program directors, senior leaders and board members all left the event with meaningful, biblical and relational tools to lead stronger and communicate better. It was one of the finest presentations we have ever hosted." Jerome Bowen, Senior Director, ASCI Rocky Mountain / Western Region

"No training program has driven home the message of loving God and loving others more than taking our faculty through Relational Wisdom 2.0. Putting these principals into practice has made a difference and our culture is noticeably more Christ-like as a result." John Davis, President, Heritage Christian Schools

"I recently completed the RW360 online training course and found it to be inspirational and challenging.  I appreciated the logical sequence of the material and the great selection of video clips used to demonstrate relational wisdom in action. I look forward to putting the RW 360 principles into practice and believe it will benefit me personally and professionally.  This program is definitely worth your time!"  Rose Dunlap, Elementary Principal, St. Joseph Christian School 
Delivery Mode and Schedule:
The online course is taught by Ken Sande (see www.rw-academy.org). Live courses are taught by Ken and other Certified Relational Wisdom Instructors.
Cost of online course: $49
ACSI Discount: Staff of ACSI accredited schools may use code "acsi10" for an automatic 10% discount
CEU's:
Online course: 6 hours (1 CEU).

Students who completed the entire "Reflection Track" (steps 1-8) of our earlier Discovering RW 2.0 online course may apply for 9 hours of credit.

Live course:  6 hours (1 CEU) requires attendance at a live seminar running from 9 am to 4:00 pm.
To request CEU credit: click here.
Overview and Registration: www.rw-academy.org
For further Information: www.rw360.org  | www.rw-academy.org | mail@rw360.org | 406-294-6806