Relational wisdom (RW), in essence, is your ability to love God with all your heart and to love your neighbor as yourself … in other words, RW is simply your ability to live out the two Great Commandments as summarized by Jesus in Mattew 22:37-39.
In modern terms, relational wisdom may be defined as a biblically-grounded, gospel-driven form of emotional intelligence that enables you to discern emotions, interests and abilities in yourself and others, to interpret this information in the light of God's Word, and to use these insights to manage your responses and relationships constructively.
One of the easiest ways to begin improving your relational wisdom is to go through RW360's online course, Discovering Relational Wisdom, which is available for $49 through the RW Academy. You can complete the course on your own, but studying with a spouse, friend or co-worker makes the training more enjoyable and life-changing.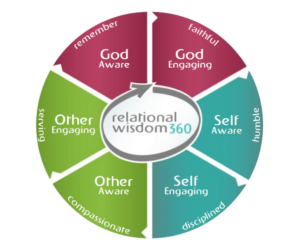 Another way you could study these concepts is to lead an eight-week Discovering Relational Wisdom group study. Group study sets are available in both a faith-based (Christian) version, which is designed for Sunday school or a home study group, and a values-based (secular) version, which is designed for use in the workplace and other secular settings for professional development.
No special training is required to lead a group study since all of the actual teaching is provided by video (DVD or flash drive). As a moderator, your role is simply to host meetings (in person or by phone or video conferencing), play the videos and lead discussions using the application questions in the course materials.
You can use these resources to teach relational wisdom to every person in your church, ministry or business as a way to strengthen relationships, improve unity and teamwork and equip people with skills that enable them to "get upstream of conflict."
___
For more information on how to use these resources to train your staff in a business, school or other organization, click here.
For more information on how to host a live seminar or webinar to introduce your church, ministry, business, school or other organization to these concepts, click here.