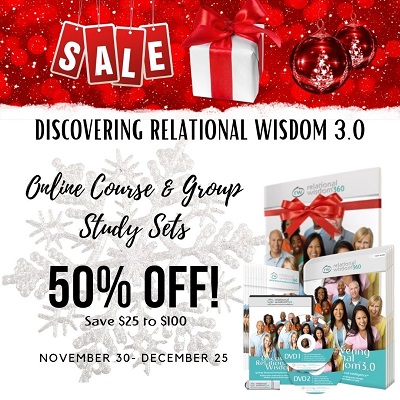 The holiday season often presents three challenging questions:
First, "What meaningful gift can I give to the special people in my life this Christmas?"

Second, "Is there a way that our family, church or business can improve its ability to deal with the relational challenges of the holidays … as well as those of everyday life in the coming year?"

Third: "What gift could I give to unsaved friends that might open the door for them to encounter Jesus and his gospel?"
I'd like to offer you two resources that could answer all three questions.
For the next three weeks, we are offering a 50% Christmas discount on both our faith-based and values-based (secular) courses on relational wisdom, which are available online for individual study and on DVD or flash drive for group study.
As indicated by these testimonies, these life-changing principles can enrich marriage, improve parenting skills, deepen friendships, strengthen church unity, heighten workplace performance and career advancement, and most importantly, enhance our witness for Christ.
Just think of the blessings that would come to the people closest to you if you helped them to develop these kinds of skills in the weeks ahead!
A Gift for Everyone in Your Life
This special gift could bless every person in your life, including:
Your spouse – study together to rejuvenate your relationship and reduce conflict!
Your children – read these testimonies to see what happens when an entire family, including eight and ten-year-olds, study God's relational principles together.
Your extended family – imagine the difference in family gatherings if your parents, siblings, in-laws, uncles, aunts and cousins improved their empathy, listening skills, self-awareness and other relational abilities!
Your friends – what greater gift could you give them than a way to develop deeper relationships?
Relatives, friends and co-workers who do not yet know Christ – our values-based (secular) course has optional links that open the door to learn about the gospel.
Your business – improved relational skills bring out the best in people and produce bonds of loyalty, trust and mutual support (AKA "social capital"), which improves customer relations, reduces staff turnover, increases profitability … and actually makes work more fun! Studies indicate that this type of employee training produces a return of $1.50 to $6.85 for every dollar you invest!
Study Anywhere
Our online course is available for individual or group study using a computer, tablet or smart phone. The course includes 8 lessons, each of which includes teaching and demonstration videos, Bible study, interactive discussions and online quizzes.
The course is also available on DVD, flash drive or video streaming for people who want to study together as a group.
Faith-Based Course
If you would like to go through the faith-based course yourself or give it to family, friends or co-workers, click on the appropriate link below and use the coupon "Christmas50" for a 50% savings:
Values-Based Course for Non-Christian Friends
RW360 has developed a "values-based" version of our training for people who do not yet know Christ. It contains no religious language, but it provides an excellent introduction to the concept of relational wisdom and has optional links people can click if they'd like to learn more about a biblical worldview and the gospel itself (see overview here). If you would like to share this training with non-Christian relatives, friends or coworkers, click on the appropriate link below and use the coupon "Christmas50" for a 50% savings:
A Gift that Keeps on Giving
So this Christmas, give the gift that will bear fruit throughout the coming year: the gift that helps those you love fulfill the two greatest commandments in the Bible: to love God with all their hearts and to love their neighbors as themselves.
– Ken Sande
Permission to distribute: Please feel free to download, print, or electronically share this message in its entirety for non-commercial purposes with as many people as you like.
© 2020 Ken Sande
Would you like to receive future posts like this? Subscribe now!