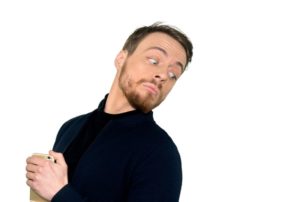 To find your greatest weakness, first identify your greatest strength and then look right behind it.
That's one of the tragic results of sin: it twists our strengths into weaknesses, just as (-1) x 100 becomes -100.
Are you highly intelligent and well-studied in the Bible? Look out, because your knowledge can puff you up and be used to conceal sin and rationalize ungodly attitudes and behaviors (1Cor. 8:1).
Are you gifted at reading others and discerning their feelings and interests? You may be tempted to use that ability to manipulate them for your own purposes (Rom. 16:18).
Are you so gifted that you can handle most of life's challenges without the looking to others for help? You may become so proud and self-reliant that you isolate yourself from God and other people (James 4:6; Prov. 18:1).
Are you kind and caring? You may be too quick to offer help to others and end up making commitments you don't keep (Eccl. 5:2).
Are you compassionate and gentle? You could be vulnerable to "fear of man" and find it difficult to offer needed correction to others (Prov. 27:6).
Are you bold and courageous? You may be inclined to judge others and blurt out words that wound rather than heal (Prov. 12:18).
The same principle applies to churches and organizations.
Is your church committed to sound doctrine and theology? You could become proud, indifferent to emotions and personal struggles, and judgmental of those who don't share your views.
Is your church given to passionate worship? You could be led astray by emotion and tossed to and fro by the latest worldly ideas.
Does your church work to alleviate injustice and suffering? Be careful … because doing good works can become a substitute for sharing the gospel of Christ, which is the only way to prevent eternal suffering.
The answer to this problem is not to stop being discerning, kind, compassionate, courageous, committed to sound doctrine, passionate in our worship or concerned about injustice. All of these attitudes and behaviors are actually commanded by God.
The solution to this problem is to pray daily that God would give you grace to sanctify your strengths, that is, to purify them from sin and to set them apart exclusively for his purposes.
O Lord, please help me to accurately identify the gifts and strengths you have given me, and to discern how they can be corrupted by sin and used in ways that dishonor you and hurt others (self-awareness).

Please give me grace to discipline myself and take every thought, emotion, word and action—every strength you have given me—captive to Christ (self-engagement).

Enable me to clearly discern the needs of others (other-awareness) …

and give me both the desire and ability to truly minister to those around me rather than manipulating them (other-engagement).

Lord, I can only do this as you fill me with your Holy Spirit, as you give me a deeper understanding of all you have done for me through the gospel (God-awareness) …

and as you incline my heart to honor and trust you and obey your command to love others as you have loved me (God-engagement).
God has given every one of his children special grace and gifts (Eph. 4:7-8). The more consciously and deliberately you sanctify your strengths for his purposes, the more fully they can be used to bless others, develop closer relationships and build his church (Eph. 4:11-16.).
– Ken Sande
One way to improve your ability to use your gifts for God's glory and the benefit of others is to attend RW360's 2022 Sowing Peace Conference, which will feature 30 keynotes and workshops designed to help you grow in relational wisdom. If you're unable to join us in August, you can use our online Training Program to pursue training as an RW Shepherd, Instructor, Coach or Conciliator and to begin the development of a Peace Sower Team in your church.
Reflection Questions
What are your greatest strengths?
How have those strengths sometimes been twisted into great weaknesses?
How could you sanctify those strengths today and use them more consistently and effectively to honor God and serve other people?
What are the greatest strengths of your church, ministry or business?
How could those strengths actually become weaknesses?
How can you sanctify those strengths and use them more consistently and effectively to build God's kingdom?
Permission to distribute: Please feel free to download, print, or electronically share this message in its entirety for non-commercial purposes with as many people as you like.
© 2019 Ken Sande
Would you like to receive future posts like this? Subscribe now!