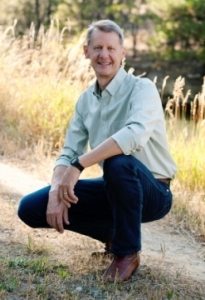 As many of you know, I was diagnosed with cancer in June and had my thyroid surgically removed. Two weeks ago I swallowed a tablet of radioactive iodine to kill any remaining thyroid cells.
Late last week I had a full body scan to see if there were any other discernible tumors in my body. Thanks be to God, there were not. As you can imagine, we are greatly relieved that we are not facing any immediate risks.
Much Better News
I received even better news earlier in the week, however, when I read Charles Spurgeon's Morning and Evening devotional on the death and resurrection of Lazarus:
"This sickness is not unto death" (John 11:4).

From our Lord's words we learn that there is a limit to sickness. Here is an "unto" within which its ultimate end is restrained, and beyond which it cannot go. Lazarus might pass through death, but death was not to be the ultimatum of his sickness. In all sickness, the Lord saith to the waves of pain, "Hitherto shall ye go, but no further." His fixed purpose is not the destruction, but the instruction of his people.

The limit is encouragingly comprehensive. The God of providence has limited the time, manner, intensity, repetition, and effects of all our sicknesses; each throb is decreed, each sleepless hour predestinated, each relapse ordained, each depression of spirit foreknown, and each sanctifying result eternally purposed. Nothing great or small escapes the ordaining hand of him who numbers the hairs of our head.

This limit is wisely adjusted to our strength, to the end designed, and to the grace apportioned. Affliction is not haphazard–the weight of every stroke of the rod is accurately measured. He who made no mistakes in balancing the clouds and meting out the heavens, commits no errors in measuring out the ingredients which compose the medicine of souls. We cannot suffer too much nor be relieved too late.

The limit is tenderly appointed. The knife of the heavenly Surgeon never cuts deeper than is absolutely necessary. "He doth not afflict willingly, nor grieve the children of men." A mother's heart cries, "Spare my child;" but no mother is more compassionate than our gracious God. When we consider how hard-mouthed we are, it is a wonder that we are not driven with a sharper bit. The thought is full of consolation, that he who has fixed the bounds of our habitation, has also fixed the bounds of our tribulation.
A 100% Chance of Living … and Dying
Spurgeon's insight into God's loving and sovereign control over every detail in our lives, including our illnesses, is a great encouragement to Corlette and me as we look beyond these recent medical procedures.
Although we are aware of no immediate risks, my cancer is still rated as stage IV. Based on the size of the original tumor, the number of lymph nodes infected, and my age, the doctors predict that some thyroid cells probably survived the radiation treatment and will trigger more tumors within five years.
I have a particular gene that could cause this to happen more quickly and make it difficult to stop. But in most cases this is a slow process that can be addressed through careful monitoring and repeated treatments.
Of course God can trump all of these predictions. He has the power to immediately and miraculously heal me, which we pray he will do. He could also bring complete healing or incremental successes through natural processes and good medical care.
On the other hand, God could take me or you home at any time. The fact is that each of us has a 100% chance of living every one of the days he has assigned to us, and a 100% chance of dying the moment our time runs out (Ps. 139:16).
More importantly, if we've put our trust in Jesus Christ, we have a 100% chance of being instantly transported into his glorious presence the moment he draws our lives in this world to an end (John 3:16). That is the only statistic that really matters.
Pray for a Life that Reflects and Glorifies Christ
I would of course appreciate your continued prayers for good health. At this time I feel fully energized and am eager to love my family and press on with the new ministry God has called us to serve.
But I would be even more grateful if you prayed that my life (and yours!) would reflect and glorify Jesus Christ every day that he gives to us.
To put it another way, please pray that the promise Jesus made about Lazarus would be fulfilled in my life as well as yours:
"This illness does not lead to death. It is for the glory of God, so that the Son of God may be glorified through it" (John 11:4).
As John 11 indicates, Lazarus did die. But Jesus brought him out of the tomb to display his power, to give us a foretaste of the resurrection, and to bring glory to his name (John 11:40-44).
Jesus has done the same thing for all who trust in him. Through his death and resurrection, he has brought each of us out of our own tomb of sin and darkness, given us a new life, and empowered us to display the glory of his transforming grace in our lives (Col. 1:13-14; Rom. 6:4-5).
So even as we pray for good health and length of days, let us pray even more earnestly that God would give us grace to glorify him by living out these truths every moment of our lives:
"Present yourselves to God as those who have been brought from death to life, and your members to God as instruments for righteousness" (Rom. 6:13).

"For if we live, we live to the Lord, and if we die, we die to the Lord. So then, whether we live or whether we die, we are the Lord's" (Rom. 14:8).

"Truly, truly, I say to you, unless a grain of wheat falls into the earth and dies, it remains alone; but if it dies, it bears much fruit. Whoever loves his life loses it, and whoever hates his life in this world will keep it for eternal life. If anyone serves me, he must follow me; and where I am, there will my servant be also. If anyone serves me, the Father will honor him" (John 12:24-26).

"Indeed, I count everything as loss because of the surpassing worth of knowing Christ Jesus my Lord. For his sake I have suffered the loss of all things and count them as rubbish, in order that I may gain Christ and be found in him, not having a righteousness of my own that comes from the law, but that which comes through faith in Christ, the righteousness from God that depends on faith—that I may know him and the power of his resurrection, and may share his sufferings, becoming like him in his death, that by any means possible I may attain the resurrection from the dead" (Phil. 3:8-11).

"If then you have been raised with Christ, seek the things that are above, where Christ is seated at the right hand of God. Set your minds on things that are above, not on things that are on earth. For you have died, and your life is hidden with Christ in God…. Put on then, as God's chosen ones, holy and beloved, compassionate hearts, kindness, humility, meekness, and patience, bearing with one another and, if one has a complaint against another, forgiving each other; as the Lord has forgiven you, so you also must forgive. And above all these put on love, which binds everything together in perfect harmony" (Col. 3:1-3, 12-14).
This is how God calls us to live and die. It is a path that leads to unshakeable peace and a rich and meaningful life … and an even better life when he calls us home.
Thank you for your many prayers and words of encouragement. The Lord has used them to lift our spirits and keep our focus on him.
I'll let you know if there are any new developments health-wise. For now you can assume that no news is good news.
But more importantly, I hope to let you know how God is helping us to live out the truths described in the passages listed above.
– Ken Sande
If you are facing struggles of your own, I encourage you to see my earlier post, Cancer Is All about Relationship, and to read Jerry Bridge's excellent Bible study on suffering, Trusting God, Even When It Hurts. For a marvelous example of how to face terminal cancer, see Kara Tippet's blog.
Reflection Questions
Reread Spurgeon's devotional on John 11:4. How should this perspective of God's love and sovereignty change our attitude toward illness and other types of suffering?
How would your life be different if you fully embraced the Scripture passages listed above?
Do you know someone who is going through serious illness or suffering? Consider sharing these thoughts (as well as those in Cancer Is All about Relationship) with them as way to remind them of the hope they can have in Christ.
Permission to distribute: Please feel free to download, print, or electronically share this message in its entirety for non-commercial purposes with as many people as you like.
© 2014 Ken Sande
Did you get this from a friend? Subscribe now!