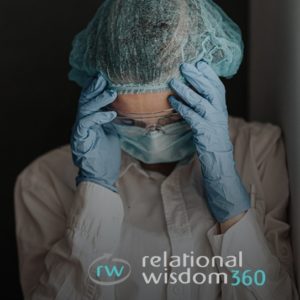 The stress on healthcare workers is increasing exponentially as the COVID-19 pandemic spreads around the world.
Even in the best of times, healthcare workers face a multitude of relational, emotional and physical challenges, including compassion fatigue, emotional exhaustion, moral distress, conflict with peers and administrators, long and erratic hours, family disruption and eventual burnout.
The COVID-19 pandemic is magnifying every one of these exhausting challenges while also exposing medical personnel to a highly contagious and deadly disease.
As these studies show, training in emotional intelligence has proven to provide skills that enable healthcare workers to overcome these types of stress while fulfilling their calling to provide effective healthcare to those who are ill.
As a gesture of appreciation, encouragement and support, RW360 is offering healthcare workers around the world free access to our online training in relational wisdom, which is an enhanced form of emotional intelligence. This offer is available until at least May 31.
This 8-hour course, which normally costs $49, has been approved for 10 hours of continuing education credit for nurses throughout the U.S. and in many other countries (details here). It is available in both faith-based (Christian) and values-based (secular) formats so that students can study these concepts in the context of their own personal worldviews (see study guides to the right).
Healthcare workers can receive a free registration coupon by going to www.rw360.org/healthcare.
The RW360 team is deeply concerned about the enormous personal sacrifices that are being made by healthcare workers all around the world.
Please help us to serve as many of these noble servants as possible by sharing this post widely in your church or business and through your social media network (see media sharing buttons below).
Free eBooklets for Stay-at-Home Families
If your family is together 24/7 these days, this may be an opportune time to use the following ebooklets to model and teach relational skills that preserve peace in your home while also preparing your children for success in their future friendships, marriages and careers.
~ Ken Sande
Permission to distribute: Please feel free to download, print, or electronically share this message in its entirety for non-commercial purposes with as many people as you like.
© 2020 Ken Sande
Would you like to receive future posts like this? Subscribe now