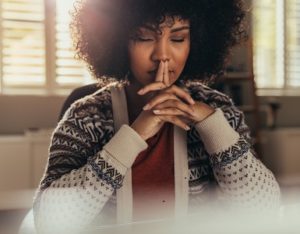 We are surely living in unprecedented times! Who would have ever thought that churches, businesses, schools and parks throughout the world would be void of activity, and that people would be quarantined in their homes to slow the spread of a deadly virus? And yet, here we are.
But what wonderful stories of sacrifice and compassion are rising from the ashes of this worldwide pandemic!
Healthcare workers tirelessly attending to the sick. Scientists working around the clock to find a cure.
Neighbors caring for neighbors. Young people stepping in to help the elderly. People loving one another enough to "stay home."
These noble acts and others like them are vivid evidences of God's goodness and grace in the face of extraordinary suffering.
Yet, the consequences of constant togetherness can create stress in relationships. Fragile marriages are further frayed. Children stretch their parent's patience, sometimes to their hurt. Siblings argue and fight. The challenges of isolation are many. How do we deal with this escalation in relational stress?
By looking to God's Word. Scripture has a wealth of wisdom for times such as this … as one of our ministry friends recently learned.
Peggy has given me permission to share her story about how she used relational wisdom, specifically the SOG Plan, to respond to a relational challenge in a way preserved relationships and honored Christ.
I had a powerful SOG experience recently. I was feeling overlooked by some friends. I felt angry, tense and terribly disappointed in them. I wanted to lash out via a text or two, but instead I turned to the SOG Plan.

In the past, I usually stuffed angry, hurt feelings. But Self- awareness means that I look at them for what they are and respond to them with humility. I assessed how hurt and upset I was … a 9 on a scale of 1-10!

That motivated me to practice Other-awareness. When I looked at what others had done, I realized they were clueless about how they had affected me and how I was feeling. I thought about the impact that my usual choice of rude, sarcastic remarks could have on them. I could actually "picture" the bewilderment and dismay on their faces if I gave voice to my feelings.

Then turning to God-awareness, I asked, "Where are you in this Lord?" Nothing! Silence!

That unnerved me because when I pray I usually sense his presence right away. So I started talking to God saying, "Well, I guess you never felt personally disappointed with certain people!"

Immediately Gethsemane flashed into my mind! The Lord was standing there looking dismayed, weary and forlorn. His disciples were scattered around him on the ground, sound asleep when He was going through tremendous emotional upheaval and needed them most!

"Watch with me," He had told them. But they slept!

Disappointed? I guess so! "Lord," I said, "What did you do? How did you handle it?"

A deep pause … like a sigh! He answered, "I prayed!"

And so, I prayed! And then responded in a way that calmed my heart and showed love for my friends.
During Jesus' ministry, He taught us by his example how to live our lives before the Face of God and in obedience to the Father. Jesus was a Man of prayer! He prayed during the storms and challenges of his life, as did King David.
"O God, hear my prayer; give ear to the words of my mouth" (Ps. 54:2).

"Hear my cry, O God, listen to my prayer; from the end of the earth I call to you when my heart is faint. Lead me to the rock that is higher than I, for you have been my refuge, a strong tower against the enemy" (Ps. 61:1-3).

"I desire then that in every place the men should pray, lifting holy hands without anger or quarreling" (1 Tim. 2:8).
If you feel stress, disappointment, anger or pain during these trying times, remember that the Lord is with you and hears your prayers. Walk through the SOG Plan (Self-aware, Other-aware, God-aware) as our friend did, and watch God redeem your emotions … and your relationships!
~ Ken and Corlette
Reflection Questions
How has the COVID-19 crisis strained your relationships?
Describe a time when you were not "self-aware" (of your emotions, motives, actions, body language, identity in Christ. etc.)? How did that deficit affect others?
Describe a time when you were not "other-aware" (of their emotions, concerns, challenges, how you were impacting them, etc.)? How did that deficit affect others?
Describe a time when you were not "God-aware" (of his character, providence, love, promises, purposes, etc.)? How did that deficit affect others?
Now pretend you could hit the rewind button and walk through those situations again applying the SOG plan. What would be different?
---
Free Training During COVID-19 Crisis
Our online training is available for free to healthcare workers, teachers, businesses, schools, churches, families and the military during this crisis. We've already given away $170,000 worth of training, which has been approved for continuing education in several professions.
Click here to receive your free coupon. 
---
New Team Member
David Kelly has joined the RW360 team as our COO. He previously served as a Vice President of Learning and Development Manager at Wells Fargo, where he focused on delivering learning solutions to improve talent development, and team member engagement and retention. He especially enjoys focusing on providing tactical support in areas of learning related to resource coordination, processes, project management and initiative development. He has been married to Amanda since 1999 and has two teenage children. We are thrilled to see how God is going to use David's gifts to enhance our ability to serve the church with transformative training resources.
---
Permission to distribute: Please feel free to download, print, or electronically share this message in its entirety for non-commercial purposes with as many people as you like.
© 2020 Ken Sande
Would you like to receive future posts like this? Subscribe now