Personal Peacemaking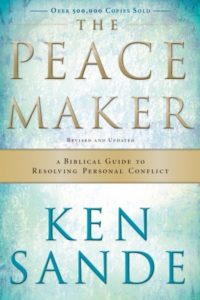 By God's grace, most conflicts between Christians can be revolved personally and privately. To assist in this effort, God has provided a great deal of guidance in the Bible on how individual Christians can resolve their differences and restore their relationships (see, e.g., Matt. 5:9; 5:23-24; 18:15; Rom. 12:18; Gal. 6:1; Col. 3:12-15). The following resources are provided to equip you to live out these principles in your life. Please review them carefully before completing the request for assistance form:
Assisted Peacemaking
If you are a party to a conflict and need advice on how to apply these peacemaking principles, we encourage you to share the resources mentioned above with your pastor or a spiritually mature friend and seek their advice on how to apply them in your situation. If you need additional advice from a trained conciliator, however, please read the information below and then complete the form provided at the bottom of this page.
When you complete the form below, your request will be reviewed by our conciliation department. If we believe we can be of assistance to you, we will email or call you to arrange an initial telephone interview with a recommended conciliation provider, for which there is no charge. Continued assistance beyond that interview may require payment of an hourly fee, which will be discussed with you before proceeding.
Note: we are currently unable to offer conciliation advice or assistance to individuals outside the United States, but you may still find the principles provided in the booklet list below to be of value.
Our advice and assistance is provided subject to these terms:
The advice will be provided by a conciliator who has training and experience in applying the principles set forth in Guiding People Through Conflict and the Handbook for Christian Conciliation.
The first hour of advice is provided for free; after that the conciliator may require hourly compensation.
The conciliator will provide general information on biblical conflict resolution, also known as "Christian conciliation," and will not provide legal or other professional advice. If legal counsel or other expert assistance is required, the services of a competent professional person should be sought.
By submitting this form, you agree to treat all dealings with RW360 and the conciliator in regard to this dispute as settlement negotiations, which means they will be inadmissible in a court of law or for legal discovery. Furthermore, you agree that you will not try to force any conciliator to divulge any information acquired during a consultation or to testify in any legal proceeding related to this dispute.
If the conflict you are addressing involves any kind of abuse that is covered by the laws of your state, you agree to take responsibility for carrying out all required reporting to appropriate civil officials.
Prior to your initial interview, you may be requested to sign and return a copy this type of Interview Agreement to protect the confidentiality of your conversation.
If you are dissatisfied with the assistance or advice you receive from a conciliator listed in RW360's Directory, you may provide constructive feedback by using this Conciliation Assistance Report or file a grievance using  RW360's Conciliator Grievance Policy. Links to both of these forms are available within the conciliator's record in RW360's Directory.
---