Have you ever seen a time like this?
A time when relational tensions are threatening to divide so many families, churches and communities?
The dangers are real and the darkness is foreboding.
Which means this is may be a unique opportunity for Christians to shine so brightly that those around us will be drawn to the light, to the one Person who can heal these divisions: our Lord Jesus Christ.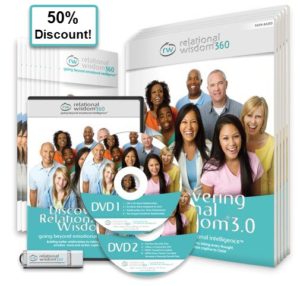 One way you can shine brightly in these dark days is to host a small group study on relational wisdom in your home, church or workplace.
This 8-lesson course begins with a biblical understanding of emotions, including "amygdala hijacking," which is on vivid display in the arguments, riots and political storms that surround us today.
The course then presents a six-part paradigm (essentially a practical systematic theology) that organizes the Bible's teaching on emotions and relationships and shows how the gospel provides the inspiration and the model for developing relational skills that can overcome the turmoil of a fallen world.
Finally, the course unfolds four simple and yet incredibly powerful acrostics that you can use to practice key relational skills so consistently in your daily life that they will soon become automatic habits.
Skills that enable you to take your emotions captive to Christ and channel their power into building stronger and more vibrant relationships.
Skills that enable you to read the emotions, desires and interests of others more accurately, so that you can respond to them in a way that resolves conflict and preserves relationships.
Most importantly, skills that enable you to use every situation in life as an opportunity to display God's transforming work in your life and to love other people in a way that draws them to Christ.
This course has been approved for continuing education credit for several professions and is being used in churches, ministries, businesses, schools, hospitals and military bases in over fifty countries.
This training is now available via DVD, flash drive for use on smart TVs and web streaming for groups that prefer to meet virtually. The course includes teaching and demonstration videos, study guides, a detailed leader's guide and access to dozens of discussion questions, supplemental articles and the RW360 Smartphone App.
We are currently offering a 50% discount on this course for churches, nonprofits and individuals who use the study for ministry purposes. To learn more about these resources, please click on either of these links:
Free Introductory Webinar
If you'd like to learn how to host a group study in your home or workplace, or to sponsor multiple groups in your church, please join me at one of the free 75-minute webinars scheduled for Friday, August 21, and Saturday, August 22, at 10 am, MDT.
After providing a brief overview of relational wisdom, I will show how easy it is to host one of these group studies and to arrange multiple groups in your church, ministry or business.
Attendance at each webinar will be limited to 100 people, so sign up now!
Our team looks forward to partnering with you as you seek to turn the chaos in our world into an opportunity to strengthen relationships and point people to Christ!
~ Ken Sande
Permission to distribute: Please feel free to download, print, or electronically share this message in its entirety for non-commercial purposes with as many people as you like.
© 2020 Ken Sande
Would you like to receive future posts like this? Subscribe now!