Ministry Partners
RW360 works closely with Crossroads Resolution Group, LLC and Ambassadors of Reconciliation to promote relational wisdom, biblical peacemaking and Christian conciliation within the body of Christ.
We follow similar conciliation procedures, license resources together, collaborate on projects of mutual concern, provide mutual accountability and make referrals to one another in order to provide clients with the most appropriate training and conciliation services.
Conciliation Assistance
RW360's Certified Relational Conciliators™ have been cross-trained in relational wisdom, biblical peacemaking and Christian conciliation.To learn more about how we can assist you in resolving a personal, family, church, ministry, business or legal conflict, CLICK HERE.
Additional Conciliation Providers
The following organizations and individuals are also available to provide biblically grounded conflict coaching, mediation or arbitration services. Each of these providers: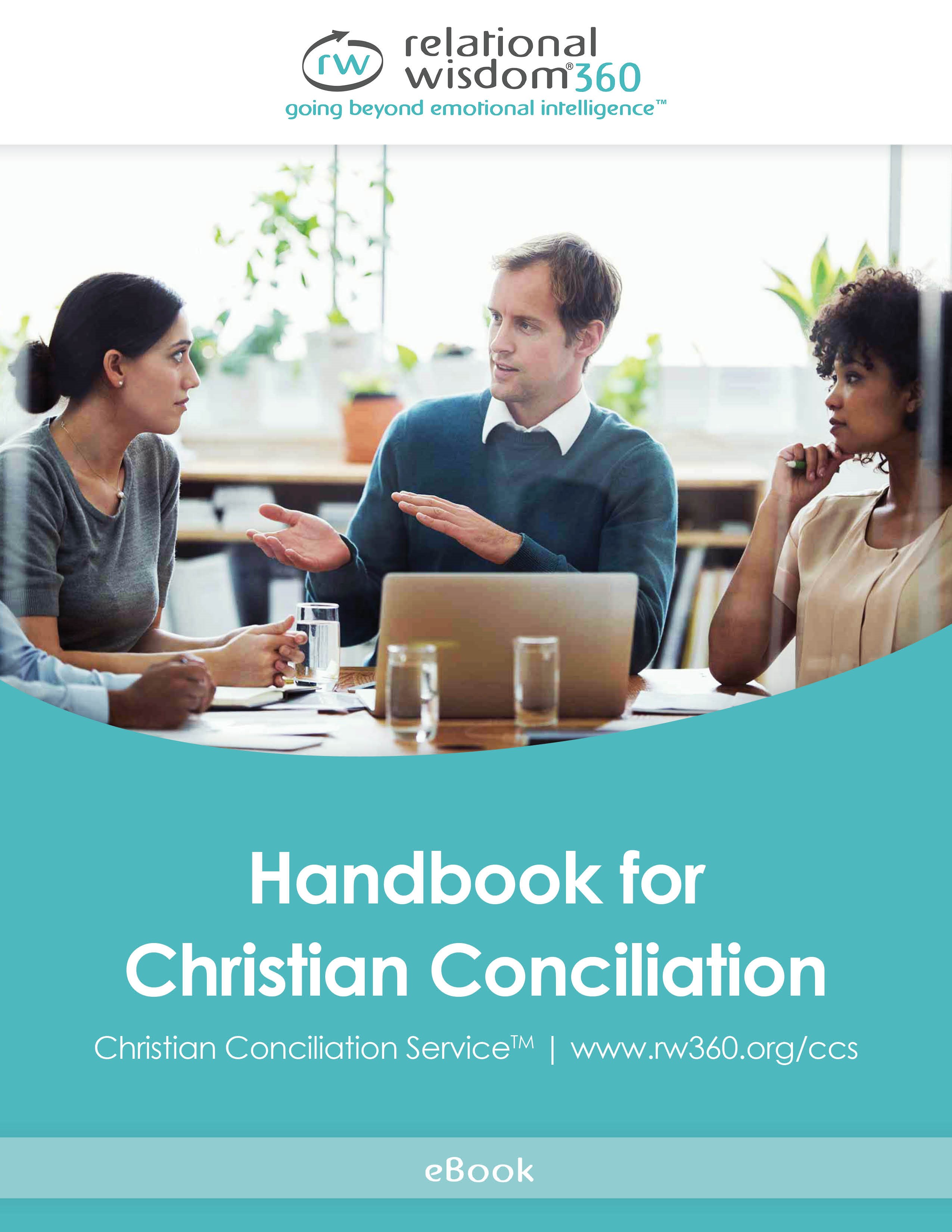 Has completed the training requirements to become a Certified Relational Conciliator™, a Certified Christian Conciliator™ or a Christian Reconciler™,
Subscribes to the principles, procedural rules and Standard of Conduct set forth in the Handbook for Christian Conciliation,
Is regularly involved in providing conciliation services,
Is accountable to a Board of Directors or an independent training/certifying organization to resolve complaints based on possible deviations from the Standard of Conduct for Christian Conciliators. (Each organization will follow its own grievance policy, most of which are similar to RW360's Conciliator Grievance Policy.)
We encourage you to thoroughly explore the training, qualifications, methods and experience of potential providers before selecting the one that will best meet your needs.
Conciliation Organizations
Adventist Reconciliation Ministries
www.adventistreconciliation.org
Canby, Oregon
Alliance Peacemaking
www.cmalliance.org/ministries/peacemaking
Colorado Springs, Colorado
Ambassadors of Reconciliation
www.HisAoR.org
Billings, Montana
Conflict to Peace
www.conflicttopeace.org
Fairfax, Virginia
Crossroads Resolution Group, LLC
www.crossroadsresolution.com
Portland, Oregon
Korean Peacemaker Ministries
Korean Peacemaker Ministries
Seoul, South Korea
Live at Peace Ministries
www.LiveAtPeace.org
St. Louis, Missouri
Peacemaker Ministries
Peacemaker.training
Spokane Valley, Washington
PeacePoint
www.peacepoint.com
Charlotte, North Carolina
PeaceWise
www.peacewise.org.au
Sydney, Australia
Reigning Peace Ministries
www.reigningpeace.org
Centennial, Colorado
Individual Conciliators
Tara Barthel
www.TaraBarthel.com
Billings, Montana
Judy Dabler
www.creativeconciliation.org/
Creve Coeur, Missouri
Susan Milsaps 
www.betweensteps.org
Clemson, South Carolina
Scott Owen 
www.HopeinConflict.org
Gilbert, Iowa
Jeanine Parolini, Ph.D
www.Jeanineparolini.com
Chanhassen, Minnesota
Jim Pluymert
www.lawpmh.com
Hoffman Estates, Illinois
Bill Ratliff
www.nadn.org/william-ratliff
Birmingham, Alabama
John Richardson
www.levelpathministries.com
Kirkwood, Missouri
Gary Wright
www.wrightattorney.net
DeBary, Florida
Related Information